The Team
We pride ourselves on giving our guests that little bit of special attention to make them feel at home - we think a little tender loving care is as important as comfortable, clean surroundings and fresh food and water.
Please feel free to visit the boarding kennels and cattery - we would like to meet you, and are always happy to answer any questions you may have.
Michele and Rob Vassallo
PREMIER PETS HOTEL - ANIMAL WELFARE LICENCE AWL0023 5 STARS
Michele
Hi. My name is Michele. I went to my first kennels with my sister Diane when I was about 7 years old, and it was my ambition from then on to have my own kennels and cattery. We currently have three dogs, one cat and a rabbit, and over the years I have shown Afghan Hounds, worked Pointers, and owned a random selection of other pets including rabbits, guinea pigs, hamsters, horses and even a marmoset monkey. I have been here for over 30 years now and am lucky to head up a superb team of people who genuinely love animals and are concerned for their welfare.
Rob
Hi. My name is Rob. With a background in IT and Service Management in the City for over 30 years, I decided it was time to hang up my suit and test my skills in a totally different area, and I love it! I pride myself in ensuring that our premises are safe and well maintained, providing welcoming and comfortable accommodation for our residents, as well as a safe environment for our staff and customers.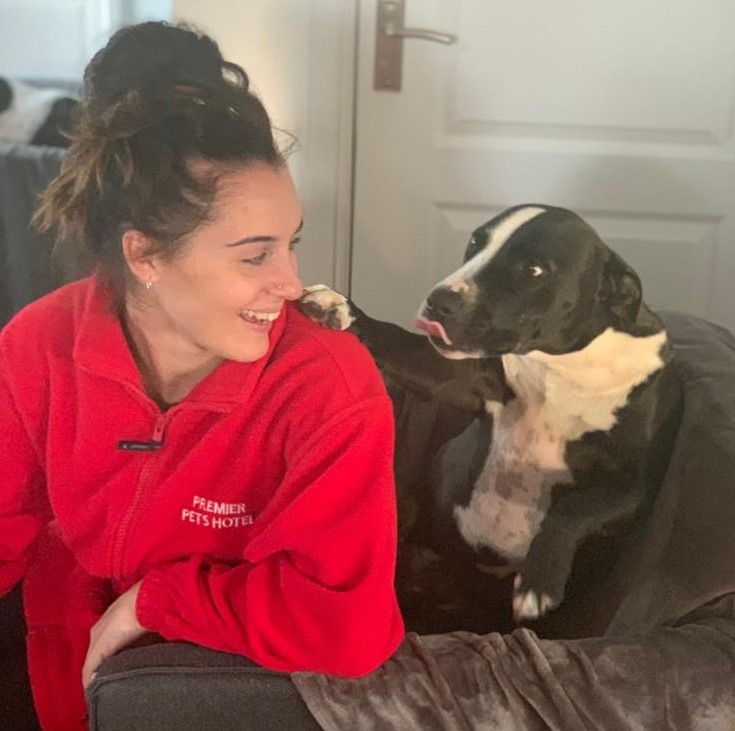 Jade
Hi. My name is Jade. I first worked at Premier 7 years ago when I was at school, and from then it has been my dream to work with animals of all sizes. I completed my Level 2 Animal Care in 2017, had a break from my studies to manage another kennels and then took my Level 3 Extended Diploma in Animal Management in 2020 whilst working part time at Premier. From the 1st January 2021 I am excited to have become the Assistant Manager and look forward to assisting Sally in the day to day running of the kennels along with the rest of the team. I own an English Pointer rescued from Spain called Wellie, and a feisty rabbit called Smartie, but as you can probably see from the picture I have a soft spot for our one and only JoJo ...
Annabel
Hi. My name is Annabel. I came to Premier on work experience for my Level 2 Animal Care Diploma in 2013 and have never left. I am a very calm person and enjoy spending time with any of the pets that are shy - it is lovely to see them grow in confidence and start to enjoy their holiday.
JoJo Vassallo
Hi. My name is JoJo. I am Head of Security and, as you can see, I take my job very seriously. I was born at the kennels and I am totally irreplaceable, obviously!
Megan Gaetto
Hi. My name is Megan. I completed an Animal Care Diploma Level 1 and 2, and couldn't wait to get the chance to put my knowledge to use. I like to get to know each guest individually - the best part is when they remember you the next time they come!
Alex Kirk
Hi. My name is Alex. I have completed a Level 2 in Animal Care, Level 3 Extended Diploma in Animal Management and now also have a Foundation Degree in Zoo Biology. I am excited to be able to put my knowledge into practice, although I have three cats, a hamster and a snake at home to keep me busy. I love all our residents, but my main job is to make sure our feline guests are happy and relaxed and answer any queries their humans may have about their stay with us.
Deanna
Hi. My name is Deanna. I have just completed my Level 2 Animal Care at Brackenhurst and plan to go on to do Level 3 Land and Wildlife Management in September 2019. I completed my work experience at Premier in October 2018 and they asked me to stay on as a part time Kennel Assistant at weekends and in the holidays. This has given me chance to put into practice everything I have been taught, and I love it! I have two cats at home, and for the last 4 years have been lucky enough to be owned by the pony in the picture - Monkey by name and monkey by nature!
Autumn
Hi. My name is Autumn. I am working part time at Premier while I study for my Level 3 Extended Diploma in Animal Management and really enjoy interacting with our guests, helping them to settle in and enjoy their stay. No matter how busy I am, I still have time for cuddles with my Border Collie Tally - he's my best friend.